Mambya Dance Company is a non-profit organization established in 2013 by Ssenyonga Oscar to give young people in Uganda a platform to express and communicate their thoughts and ideas relevant to their respective lives through the performing arts. The company creates pieces that deal with social and political themes. The dances range from contemporary to hip-hop in genre, mixed with the vibrancy of African traditional dance. The company currently consists of 35 dancers and 10 musicians at a professional level, but they are always seeking ways to incorporate more.
MDC is also involved in hosting and participating in exchanges and workshops with dancers and choreographers all over the world to give and receive new experiences; we place high value on these and are looking to increase and expand in this area.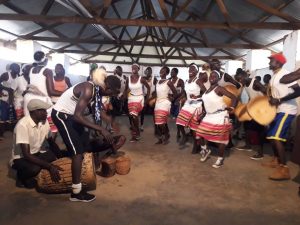 To engage in activities that inform, educate, and create awareness of art, specifically music, dance, and drama;
To promote art as a talent, specifically music, dance and drama amongst youth;
To improve the skills and quality of life of rural youth and school drop-outs who are talented in the arts, specifically music, dance and drama;
To provide guidance and counselling to children, especially orphans and disabled adolescents, to help them discover their talent in music, dance and drama;
To empower youth to improve their economic status by generating income from music, dance, and drama, which can enable them meet to attain a good living standard;
To offer professional advice regarding music, dance and drama;
To create jobs for youth who train in different fields of music, dance and drama.
To establish Tuzinne as an annual event;
To open a dance school and performing arts centre;
To establish an association that can empower and give a platform to the young African community to raise their voices and speak out to the public, hence affecting change in their lives and the lives of those around them.
Mwenda Andrew
Board Member
Andrew Mwenda is a Ugandan print, radio and television journalist, and the founder and owner of The Independent, a current affairs newsmagazine.
Alex Mukulu is a Ugandan playwright. After Kololo Secondary School, he studied Film and Drama at Makerere University, Kampala, Uganda. His most well-known plays include "30 Year of Bananas", "Wounds of Africa" and "Guest of Honour"
Oliver Dubois
Board Member
Olivier Dubois is a French contemporary dance choreographer. Olivier Dubois has been shaking up the French contemporary dance scene for more than a decade with some of the most radical choreographic work to date.
Nora Chipaumire
Board Member
Nora Chipaumire is a choreographer and performer born in Zimbabwe in 1965 and currently based in Brooklyn, NYC. Her work focuses on racial and gender stereotypes. Nora, a documentary film based on her life, was released in 2008.
Dr Catherine Mwine
Board Member